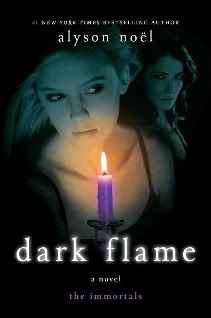 In Alyson Noel's fourth book in the popular Immortals Series, protagonist Ever Bloom delves deeper into the magick left off in Shadowland. In an attempt to find a future for her relationship with Damen something goes terribly wrong and she ends up bound to Roman, her immortal enemy. Now all she can think about is him, his heartbeat, being near him...In a panic to solve the spell, Ever is lost, the one person who may be able to help her is the one person she can never tell...and she turns to Jude...
But that's not all she has to worry about, Haven, her newly turned Immortal friend, who is drunk on her powers and threatens to expose their Immortal existence, not to mention her closeness to Roman...
Once again, Alyson Noel delivers in fine form, a riveting, enchanting and addictive novel. The writing is beautiful and the storyline is never dull. That is what is so great about her as an author, it's never what you expect, there is always an exciting twist to keep you guessing. This book is another 'can't put down' and leaves you desperate to find out the fate of both Ever and Damen, as they struggle to be together.
I also like that Ever's character is so resilient, she's been through a lot of torment in the books, but she is determined to keep fighting.
This is an excellent sequel to an already high standard of books. It continues the story well and sets the pace for the next instalment. Wonderfully written and powerful, highly recommended to existing Immortals fans and new fans alike - this is one series you won't want to put down!